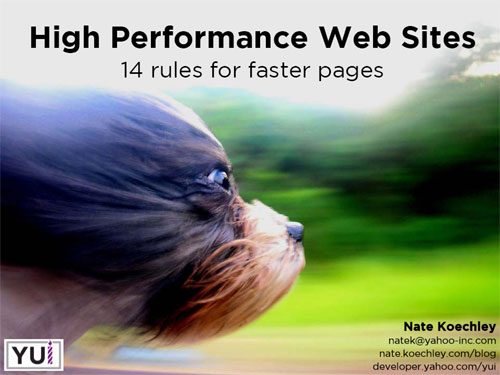 photo by Amnemona
I've uploaded the slides from my High Performance Web Sites presentation at the @media conference in London last week. They are available in PDF format (3mb) as well as in PowerPoint format (25mb) as delivered.
Please note an important change: In Steve Souders and Tenni Theurer's original three-hour presentation (which I remixed into a hour-long session for @media), and in the forthcoming O'Reilly book, "High Performance Web Sites," there are 14 rules for faster web sites. My talk offered 12 due to time constraints. In the interest of consistency I added the two missing rules to my slides before posting them. The added rules are #12: Remove duplicate scripts; and #14: Keep Ajax cacheable and small. With these restored the numbering used in my slides will match the numbering in the longer workshop and in the book. (The new rules are #12 and #14; the dozen rules I presented have their same numbers except for #12 which became #13.)
I'd like to thank Steve and Tenni and the entire Exception Performance Team at Yahoo! for letting me bring this important content to the @media audience. Thanks also to Patrick Griffiths and the @media staff for the invitation to speak, all their help, and a great conference across the board. Most importantly I'd like to thank my wonderful audience for their time and attention, for our good round of Q&A, and for the feedback already posted on blogs across the web. Thank you.
I hope to see you all again soon. (Maybe at Hackday this weekend?)