September 22, 2006
In Amusing, Cool, Culture, Current Events, Design, Engineering, Events, Life..., San Francisco, Social Web, Tools, Travel, Web Services, Yahoo!
5 comments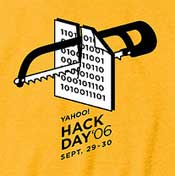 I know, I know, you LOVE to go to work/school on a Friday. It's your favorite day of the week and there's nowhere you'd rather be than in your office/cube/classroom. That's cool — I don't judge — but, but, but next Friday (Sept 29th) you realllly should play hooky and sneak down to Yahoo for our first every public Hack Day and Developer Day. It's gonna be quite the event, and I wouldn't want you to miss it. Really, you should come.
Sold? Cool: learn more and request an invitation.
Developer Day, Friday from 9-5, is packed with 20 sessions across four tracks. They are not to be missed: Rasmus Lerdorf, the creator of PHP will be giving a talk. So is Iain Lamb, (an Ajax/DHTML pioneer who co-founded Oddpost which evolved into the new Yahoo! Mail product). JavaScript guru Douglas Crockford will be dropping knowledge, as will many others. Web-celeb and Flickr's chief software architect Cal Henderson will be speaking. The plenary is by none other than Yahoo!'s VP of Product Strategy, Bradley Horowitz, (a very rare opportunity to hear him speak [for free]). Most of the authors of the open-source YUI Library will be guilding hands-on sessions dedicated to many YUI components (I'll be teaching a hands-on session about YUI's three CSS components.
But that's not even the cool stuff!
We've got top-tier entertainment lined up for Friday night, and while they won't tell me who it is, Michale Arrington (who's in the know, and MCing this event) writes:
The entertainment lined up for Friday night is going to be incredible, although a non disclosure agreement prohibits us from saying who it is. I can say with confidence, though, that everyone attending the event will be very, very happy they were there for Friday night's party.
Then the REAL fun starts: 24 hour hackathon.
Be there! (Tons of press will be, so if you miss it you can read or hear about it the next day.) We've got people coming in from Australia and everywhere between here and there, so beg borrow and steal and get yourself here too (You MUST register in advance – security will be tight… for real.)
Drop me a line if you want more info or whatever. Tons of people have blogged about this, so instead of linking to 'em all I'll just point you to Technorati: http://technorati.com/search/hackday.org?sort=authority