I arrived in Taiwan a few hours ago and am settling into my hotel room in Taipei trying to figure out what time my body thinks it is. But regardless of my body's ability to keep up with me I have a busy few days ahead.
Tomorrow afternoon I'm presenting an internal Tech Talk to designers and engineers at the Yahoo! Taiwan office, hosted by my friend and colleague Aaron Wu. I love the chance to talk to designers and engineers in the same room, and so I'm very much looking forward to the opportunity.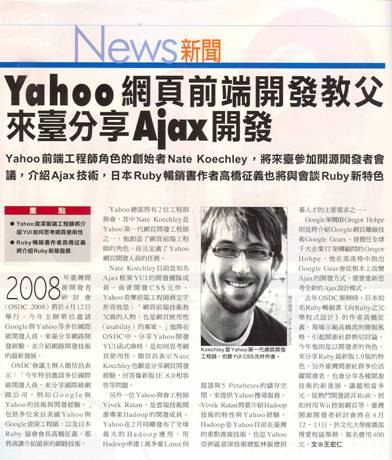 On Saturday I'm offering the keynote at the Open Source Developers' Conference here in Taipei. My talk is titled "An Insider's Tour of the YUI Library." I've been experimenting with video clips in my talks lately, and so even though I'm the only member of the YUI team on this trip, I'll have the video and voices of many from the team with me on stage. I've done something similar once before, and it went well then so I'm hoping it goes well again.
Here is some local press coverage of the conference. It's a trip to see my face surrounded by words I can't read. If anybody can translate for me, please send me a note or leave a comment (click the images for higher-res copies).
The third event is an interview for that same publication scheduled by Yahoo!'s local "tech PR" team. I'm not used to giving in-person interviews, let alone via translator, so it should be a fun and unique (and flattering) experience. They sent over a few of the questions in advance to set expectations and I gotta say the questions are thought provoking and interesting. (Though I am a little worried about how to translate some of the more fuzzy terminology.)
The fun continues on Monday and Tuesday with my fourth and fifth even is as many days: I have the distinct privilege of address engineering and CS students from both National Taiwan University and the National Chiao Tung University. Each two hour session is part presentation, part on-stage interview with professors, and part question-and-answer. My message is that Frontend Engineering is a first-rate engineering discipline, that industry is hungry for more skills practitioners in the field, and that it's quite likely the most interesting and stimulating role to play in web and internet development.
I'm exceptionally humbled to be able to speak at such esteemed institutions. I will do my best to live up to the honor. Taiwan: Thank you!